Designing and implementing a personalized learning model requires more than technology—it requires a cultural shift.
We recently visited Pickerington Local School District in Ohio, and I had a chance to sit down with Pickerington Director of Instructional Technology Brian Seymour. Brian has spearheaded amazing work at Pickerington, and has conducted workshops and trainings on technology, blended learning and personalized learning throughout the country.
Seeing how technology and personalized learning are embedded in Pickerington, I asked Brian how that transformation started. The following are ingredients that he felt were crucial to creating that initial culture shift around personalized learning three years ago.
1. Sound Curriculum Framework
Establishing a district-wide curriculum was something that Brian felt really gave Pickerington a solid foundation to build a personalized learning model.
"I think having a set curriculum has helped," he explained, "because if you're going to do differentiated learning, you have to know what's coming up. I felt like we had the curriculum down pretty well."
2. Educator-Driven Vision
Before Pickerington started investing in technology, they spent an entire year creating a technology plan. "We had about seven different stakeholder groups," Brian said. "We had kids, teachers and board members in the stakeholder groups. I had community members that work for Google, Apple and Amazon, so we were able to bring technologically savvy people in."
Even though the conversation was ultimately about having a technology plan, it didn't start there.
"For the first six months, we talked about nothing other than what we wanted teaching and learning to look like in the future," Brian told us. "A lot of that geared around the idea of moving the teacher out from behind their desk, giving the kids what they needed, and not teaching to the middle."
While the stakeholder groups included many perspectives, Brian worked hard to ensure that the process remained educator-driven. "You need to have an educator driving that boat," he said. "If you have someone that has no educational background, you're not going to create a technology plan for the school, you're going to create a tech plan for a business."
The teachers were able to help craft the vision and the message of their personalized learning model from the beginning.
"Classrooms don't need tech geeks who can teach; we need teaching geeks who can use tech." #edtech #OETC17 #education #teacher #school

— Brian Seymour (@SeymourEducate) February 15, 2017
3. The Right Hardware and Software
Once the vision was agreed upon, the plan for incorporating technology began in earnest. "We started to get into the question of how we could utilize technology with what we'd done in the past and what we'd like to do."
From a hardware standpoint, they looked at what devices would make the most sense for the grade levels they were serving, and decided on a combination of iPads and Chromebooks. The discussions around software encompasssed everything from instructional programs to digital books.
A decision to phase out most physical textbooks allowed Pickerington to repurpose funds. "We took all that money and put it right into digital programs," Brian said. "So now we have programs that are up to date, and we have incredibly interactive programs like ST Math."
4. Ongoing Professional Development and Support
From the initial planning questions that drove group discussions, to ongoing professional development, Pickerington worked to ensure the right training was available for teachers to give them strategies and skills they needed to implement a personalized learning model.
That began with showing teachers what the approach looked like in the classroom. "For the schools that went first, we took them to other school districts that were doing this," Brian said. "When we went 1:1 with grades 5 and 6, we brought teachers from the middle schools and high schools down and showed them what this looks like."
"Schools have to personalize and differentiate their own professional development for teachers," Brian added. He explained that Pickerington offers multiple levels of professional development on the same topic, so that teachers who are at different levels can get the support they need. And for teachers that have fully embraced the model and are comfortable with all of the technology, they can also lead the professional development for their peers.
5. Celebrating Successes
One of of the most important aspects of maintaining teacher buy-in and strong implementation was taking the time to acknowledge their achievements.
"Sharing the successes that happen in the classrooms is key," Brian said. He explained that principals and teachers regularly discuss what's working with each other during staff meetings. Embracing of technology has helped students and teachers develop new skills and creative ways to showcase them.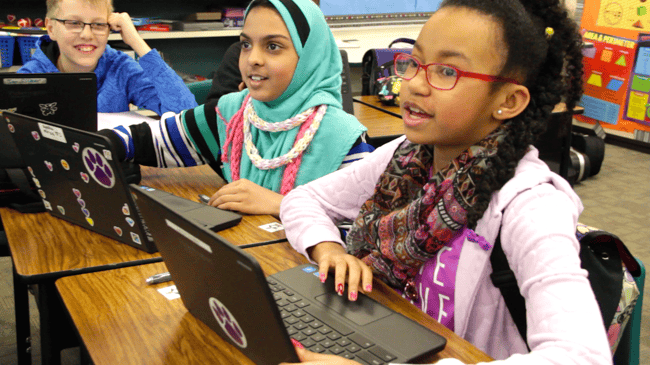 6. Constant Re-Evaluation
While having a well thought-out technology plan was crucial to getting their personalized learning model off to a good start, it was just as important for Pickerington's success to regularly re-evaluate their implementation methods.
On the hardware side, that meant making sure the devices they chose met the needs of each class. In gathering feedback from teachers after using iPads for a year, Brian said it was clear they felt older students would benefit from devices that had dedicated keyboards. "So then we made the decision to switch third and fourth grade to Chromebooks."
On the software side, it meant making sure the programs Pickerington was using truly offered a personalized learning experience for students. "One of the problems we have now are legacy programs that have been around for four or five years that aren't truly differentiating or personalizing for kids," Brian explained. "They're almost like an electronic textbook. Whereas the more adaptive programs are doing things that the kids need."
He used the ST Math Middle School Supplement as an example. "It gives kids a test at the beginning of the module, and the ones who have already succeeded don't need to have [that content] anymore."
Brian explained the school was in the middle of vetting all of their current programs by pulling groups of teachers together to discuss whether or not what they had was still working for them. "I want to know what's working and what's not working, and if something is not working, we're going to get rid of it."
Maintaining a Vision of Personalized Learning
While Pickerington has updated their technology and personalized learning strategies as needed, they have never lost sight of the overall vision, or succumbed to new fads. "Trends come and go quickly," Brian told us, "but our goals have remained the same for three years."
You can see those goals and strategies for yourself. Pickerington's instructional technology plan has become a model for other districts as well, and they have made it readily available online. You can read the plan here.
MIND would like to thank Brian Seymour for sharing some of the ingredients of Pickerington's success with us!
Additional Resources: