My introduction to the Associated Teachers of Math in Connecticut (ATOMIC) was the 2017 Fall Conference on December 4th, and the day certainly lived up to the group's bold acronym. Passionate discourse and a strong sense of community shone through in every workshop and presentation, as a wide breadth of math-related topics were addressed. The importance of engaging students in conversation as well in relation to productive struggle and implementing technology in classrooms came up again and again.
I felt the atmosphere of comraderie and support from the first moments of the day, as morning began with a celebration of several local teachers for their efforts in math education, and an excited discussion about next year's Associated Teachers of Math in New England (ATMNE) Conference (which will be held in Warwick, Rhode Island on December 6th and 7th of 2018). Author and educator Cathy Seeley then gave a powerful keynote about productive struggle and communication.
Productive Struggle: Flipping Old Models on Their Head
Seeley asked educators to think about the best math class they had ever seen, and noted that the most common responses involved a classroom where students were engaged with one another and the teacher, discussing what they were learning. She then pointed out the ways that teachers sometimes undermine that level of engagement by lecturing students, instilling "no-talking" rules in the classroom, and giving students hints at the first sign of struggle.
Seeley emphasized the need for students to discuss what they are learning, and be able to explain their thinking to others. She also reiterated the importance of productive struggle, as it helps students "make sense" of math and learn to persevere. She described turning the old teaching model upside-down by introducing students to a problem first, rather than the problem being the final step in the lesson.
Following this thought-provoking keynote, the remainder of the day was packed with over sixty workshops and presentations. Highlights for me included sessions on classroom technology and challenges revolving its implementation and how educators perceive and utilize data.
Creating a Positive Data Culture Through Engagement
The standout conversation I participated in during my morning workshops was about the culture of data that exists in schools, and how it differs based on the way data is being presented and used. Some educators described a negative culture around data stemming from a preoccupation with specific results. Some felt the focus on data was hindering teachers' ability to create positive learning environments for students.
This led to a discussion on how to establish a positive data culture in schools by focusing more on relationships than on numbers. Establishing strong relationships between administrators, teachers, students and families builds trust and allows data to be seen as a tool for transparency, conversation and meeting students' individual needs.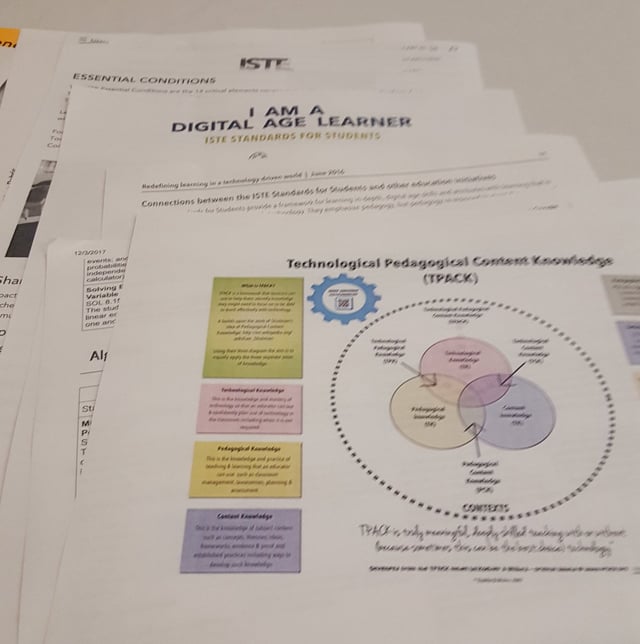 Using the SAMR Model to Promote Transformational Learning
My afternoon highlight was a great workshop led by Anne Pember regarding mobile learning in the classroom, where the willingness of teachers to innovate and transform their classrooms was on full display. Pember discussed Dr. Ruben Puentedura's SAMR model (Substitution, Augmentation, Modification, and Redefinition), which helps teachers think about how they are using technology in their classrooms.
The model describes different levels of implementation, and encourages educators to implement technology in a way that doesn't just enhance learning, but transforms it. The highest level of the SAMR model is Redefinition, where technology is helping create new learning tasks and experiences that are more engaging and enable opportunities for feedback and discussion.
In addition to the informative and thought-provoking presentations, my biggest takeaway from the ATOMIC Fall Conference was that it showcased the passionate and tight-knit community of math teachers in the State of Connecticut. I was truly inspired by their dedication to providing the best possible learning experiences for their students.
Further Reading

: