Last fall, I had the privilege of meeting and convening with amazing, accomplished women (and men) all focused on one theme: GIRL POWER! And even more exciting, a clear call to action emerged: for us to unlock dreams and open doors to life-changing careers by mentoring young girls.
Million Women Mentors Summit & Gala
I was honored to participate in the opening panel of STEMConnector's Million Women Mentors Summit & Gala in Washington, D.C., on October 5, 2016. Our panel, "Strategic Partnerships as a Catalyst for STEM Talent and Careers," featured such powerhouses as Dr. Christyl Johnson of NASA; Lt. General Stacye Harris with the US Air Force; Viola Maxwell-Thompson, President of ITMSF; Dr. Ravishankar Gundalpalli, CEO of MentorCloud; and Nikole Collins-Puri, CEO of Techbridge.
Moderated by Kirsten Weeks, Director of Global Community Relations at Cisco, we discussed how to provide exciting and impactful educational and career exploration experiences for girls. Here are some highlights from the panel:
"Excitement MUST be early and often" - of course! #girlsinSTEM @JanineIngram7 of @MIND_Research #MWMSummit2016

— Jessica Graham (@jessicacgraham) October 5, 2016
"Role models spark, envision, and transform" - @techbridgegirls @usairforce @NASA @MIND_Research @Cisco @MentorCloud #MWMSummit2016 pic.twitter.com/Mw7v0JTHjs

— Maddy Philipp (@mphilipp46) October 5, 2016
Really liked how @JanineIngram7 showed how teachers are uniquely positioned to mentor both students and parents! #MWMSummit2016 https://t.co/unDcjjP0ce

— STEMconnector (@STEMConnector) October 5, 2016
Another great honor at the Summit was accepting the Partner Innovation Award on behalf of MIND Research Institute for our commitment to recruit 100,000 girls and young women to mentorship relationships by 2020. In that moment, I was granted the opportunity to discuss a foundational value embraced at MIND: the importance of creating a culture of encouragement and enthusiasm that helps students get excited about problem solving and the beauty and power of math.
Building a Culture Around Mentorship and Encouragement
At MIND we believe in the importance of culture, and our education team members across the country work hard to help ST Math schools create what we call "JiJi Culture" in honor of the little penguin JiJi in the ST Math games. JiJi Culture is a culture of perseverance and grit. With JiJi Culture, girls learn the pleasure and accomplishment of mastering concepts that are really HARD! Something tantalizingly tricky, as our founder Matthew Peterson, Ph.D., describes it. Ultimately, JiJi Culture is one of empowerment—the ability to personalize and guide your own learning and your own understanding.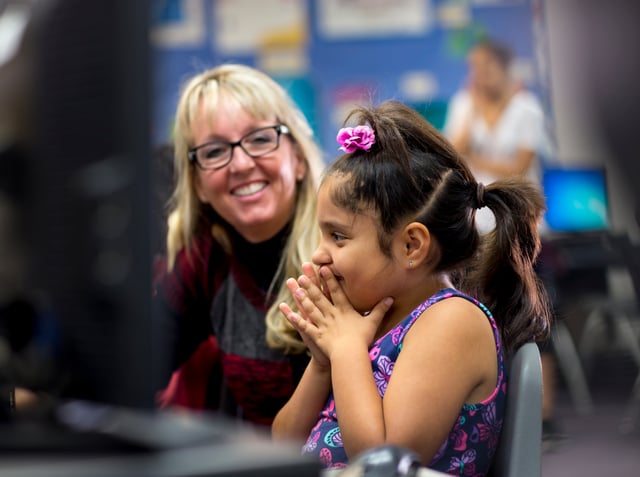 This is particularly important with girls, as female students in the class of 2016 are still significantly less likely than their male counterparts to report plans to pursue a college major or career in STEM (16% vs. 41% respectively) despite the fact that math proficiency for males and females is virtually even when students enter high school.
What if we could capture this spirit in girls before 8th grade—that terrible milestone in American education where only a third of students are considered math proficient? What if we could help engage and enrich girls' attitudes toward math before 70% fall victim to the "I'm just not good at math" self-talk so prevalent among middle and high school girls today?
What if we could find those young girls early, the ones who feel strong and confident in their math skills, who believe they are more than capable and convince them that they are math superheroes? That the world of opportunity is there for the taking for girls just as much as it is for their male schoolmates?
At MIND we can. We do! Every day!
By developing and fostering excitement and confidence in math and problem solving early and often, we have the opportunity to catch the minds and spirits of girls ... before self-doubt sets in. Before societal pressure. Before loving math and science isn't cool or feminine.
The Power of a Mentor
Our dream is to take these girls, all girls, through the next step of their STEM journey—to encourage them early and often to stay engaged with math and STEM. And research shows one of the most effective ways to accomplish that is through mentoring.
Research has shown that teenagers may be discouraged from pursuing STEM careers when they do not know anyone who works in these fields. But a mentor can turn this around. More than 3 in 4 female students interested in a STEM career who also have mentors feel they will be successful in pursuing a career in STEM.
And that's the power of a mentor.
Learn more about mentorship and how you—men and women alike—can change a girl's life at the Million Women Mentor Facts page.
Looking to share this information with parents and educators? Download this document to help connect more girls with STEM mentors: