Jere Whitson Elementary is one of twenty schools at Putnam County School District in Tennessee, but it's the only school serving a largely low-income, highly transient population with many English language learners.
With all of these factors in mind, Jere Whitson's educators knew they needed something to support their math curriculum and make it accessible for all students, regardless of language ability or skill level.
They brought in ST Math in fall of 2016, and with consistent implementation they've seen huge leaps in student engagement, perseverance and problem solving ability.
"I've never seen kids so confidently express what they're doing as when they're using ST Math. We've used other computer programs in our school, and often times they'll just look at you when you ask a question. But when it's ST Math, they're the ones creating the story."

—Thomas Fuhrman, Principal, Jere Whitson Elementary
Jere Whitson's teachers see their students' confidence shine with ST Math along with their NWEA growth scores, which show first graders improving by 23.1 points from spring of 2016 to 2017.
Read the full story to learn more about how Jere Whitson is making the most of ST Math: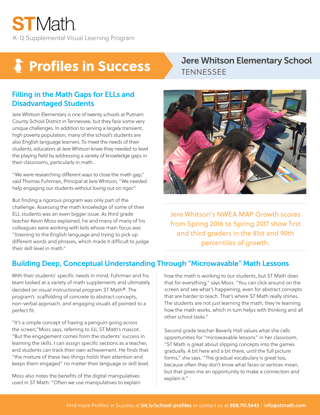 Interested in learning more about ST Math? Request a 30 day free trial below: